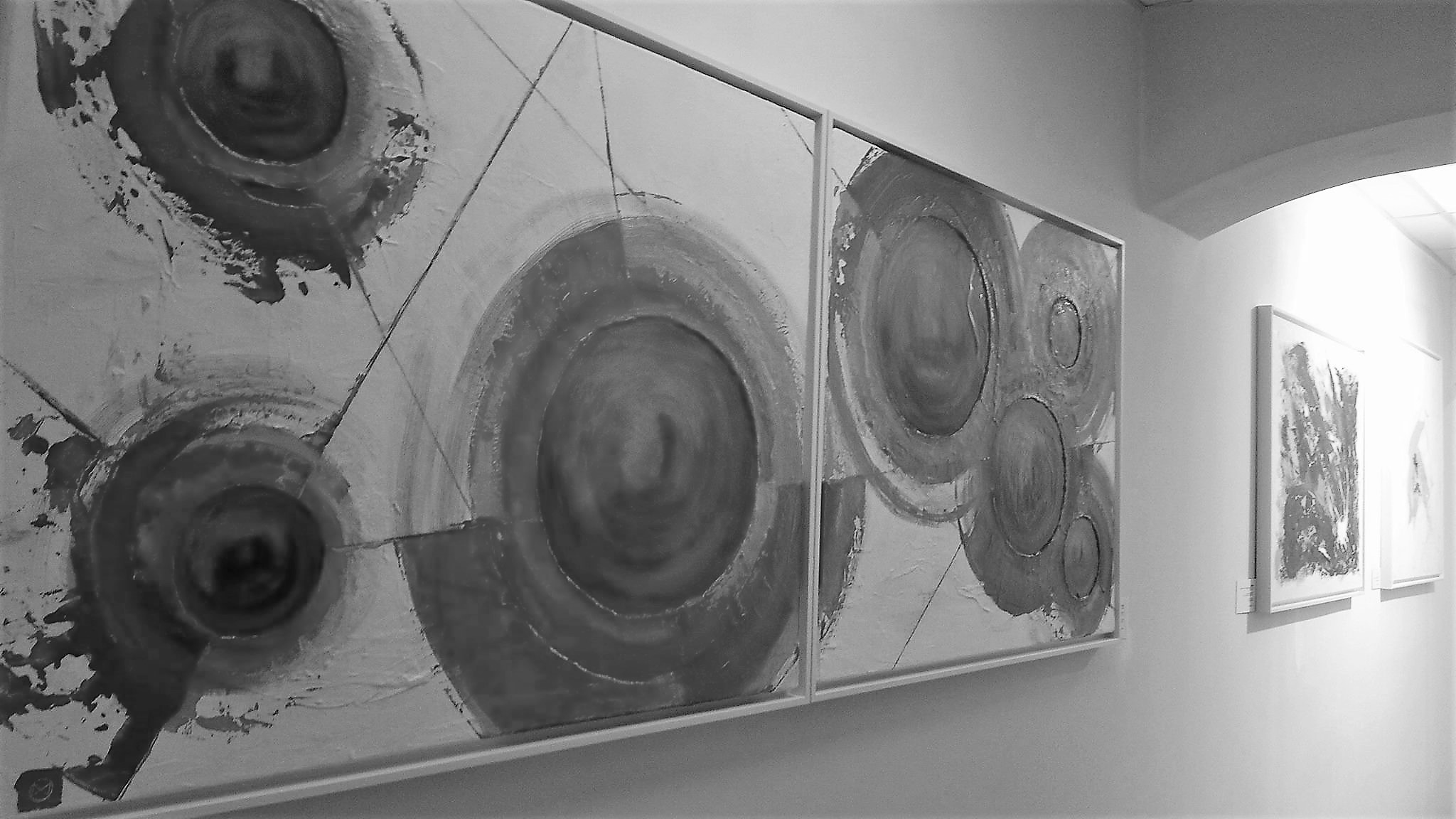 Kim Okura (geboren 1973 in Klagenfurt, Österreich) lebt und arbeitet in Wien.
Okuras künstlerische Position offenbart sich in ihrem umfangreichen und vielschichtigen Œuvre welches sich durch verschiedenste Ansätzen und Formen arbeitet und den radikalen Anspruch erhebt, durch individuelle Inszenierungen einzelner Arbeiten oder Werkzyklen zu pulsieren, anstatt sich linear devot einem kontemporären Dekret zu unterwerfen. Ihr künstlerisches Werk umfasst Zeichnungen, Malereien, Grafiken, Leinwand- und Papierarbeiten, Objekte, Skulpturen, Konzeptkunst, Installationen und Texte.
CURRENT & UPCOMING
22. NOVEMBER 2017
EXHIBITION @
VCA 4th OPEN HOUSE
17:00 – 22:00 hrs
Mag. Barbara Krammer-Punzet and Dr. Alfred Krammer, founders of VCA Vienna City Apartments™, cordially invite to the occasion of the presentation of VCA's designer apartments, PRINCESS and KING Suites at Schottenring 33, 1010 Vienna.
By personal invitation only.  Contact
---
PERMANENT
ATELIER WERKSCHAU 2017
Es besteht die Möglichkeit präferierte Arbeiten im Atelier 1050 Wien (GALERIE KRAUT & RUEBIUS) persönlich zu besichtigen.
Nur mit Referenz und nach Voranmeldung: Kontakt
---
PAST
_______Exhibitions | Ausstellungen
2017
KIM OKURA ZEIGT: TROPHÄEN | FEUERKULTUR Vienna // DESIGN DISTRICT DAYS –31.Oct. | Collaboration with Moi Moi | Vienna AUT | Solo Exhibition
2017
AD HOC EDITION | Live Radierung | PARALLEL Vienna 2017 19.–24.Sept. Druckwerkstatt "UNDER PRESSURE" Mag. Art. Kalina Strzalkowski // ZEIN
2017
1O1 BABE | Sculpture Show | Int. Phantastenmuseum Vienna | Group | Museum
2017
CLOSING HALBGASSE | Kim Okura : Miete – Strom – Gas – Essen – Pickerl – VISA  | Fuenf vor Zwoelf , Vienna, AUT  | Group Exhibition
2017
KIM OKUTA 'INSPECTIO' | selected works 2010–2017 | Xcom, Vienna, AUT | Solo Exhibition
2017
PorNtrait – Vom Portrait zum PorNtrait | Fuenf vor Zwoelf, Vienna, AUT  | Group Exhibition
2016
RESILIENZEN Galerie Palais Palffy EG, Vienna, AUT | Solo Exhibition
2016
1O1 BABE Show Tour | Prof. Ernst Bruzek | Phantastenmuseum Wien AUT | Group Exhibition
2016
Lange Nacht der Museen, Die Götter kehren zurück | Palais Palffy | 1O1 BABE | Vienna AUT | Group Exhibition
2016
LUXURY WAR | atelier-galerie Fuenf vor Zwoelf (former HALB7) Vienna | Group Exhibition
2016
unknown unknowns | GPA djp, BFI Wien, AUT | Solo Exhibition
2016
KLEINE WERKSCHAU | Ina GOLUB Art & Design Space, Vienna | Exhibition | Happening | Collaboration
2015
INNENLEBEN | Vinothek Rochus, 1030 Vienna | Solo Exhibition
2014
Jewelry ART | Falkensteiner Hotel Vienna Margareten AUT | Group Exhibition
_______Awards | Preise | Auszeichnungen
2016
Art Prize 2016 | Platin Duc award winner| Duc de Richelieu | Category Fine Arts | Odessa UKR
2014
Loctite Competition | Finalist | HTC Fashion Check-in, Le Méridien | Vienna AUT
2010
BOSS Orange | Finalist | Design Contest | International
_______Media | Publikationen
2017
Auktionskatalog "Art for Children" Wien (60 Seiten) Zugunsten von Geben für Leben | page 14: ___HASE 01 | | we help you c/o Marcel-Michael Prager
2017
ÜBER DAS FARBIGE UNIVERSUM DES HERRN CHRISTIAN A. DOPPLER | EINE HOMMAGE AN DEN WELTBERÜHMTEN SALZBURGER NATURWISSENSCHAFTLER UND "VATER DER LUFTFAHRT" | Jubiläumsausgabe 2017 | Editio princeps | Katalog | Druck: RC1050VIE | Eigenverlag
2015
edition ananas | Volupia – ST black | Beitrag, bildende Kunst | Hrsg.: Mag.ᵃ Andrea Pierus
2011
Zeixs | T-Shirt Design Buch 2 | Design RAKA RAKA…| Hrsg.: Feierabend Unique Books ISBN 978-3-939998-73-0
2010
OE4 Magazin | KIM OKURA Art on Shirts | Ausg. 41 Sept. | Hrsg.: Newbreeze Publishing
_______In Collections | Selection Sammlungen
Sammlung Phantastenmuseum Wien
Sammlung GPA djp Wien
Private Collection Sänger Castro
Private Collection Wolf
Private Collection Chavanne
_______ Projects | Collaborations | Milestones | CV selection
2017
we help you | ART FOR CHILDREN | Benefiz-Kunstauktion zugunsten von "Geben für Leben" | Gartenpalais Schönborn, Vienna AUT
2017
Wine Label | Rat with Handbag | Vinothek Rochus, Rochusmarkt Vienna | Limited Edition
2017
Critical contemplation at privatim #ARTrootcamp | Italy
2017
Donation for 'Helping Hands for Kids' | Buddha Red
2016
Donation 'Gulliver's Travels' for Global Family – Charity Resort | series of 10 Artworks
2016
Wine Labels | Contemplor.wine & Weingut Tinhof | 2 Artworks for limitierte wine editions
2016
Made the decision to get involved in art completely (early in January) | stopped working in gastronomy | since more than twenty years Kim earned her keep as a full or part-time waitress
2012 – 2015
Jewelry Art, inlay designs | with unique ID number | KIM OKURA – ATELIER Vienna
2012
'NO French Kissing In The UK' | picture cycle | study tour, London | UK
2012
Wikitschi.com | Art for Kids | Online-Shop, Kunst auf Kinder Kleidung | Kiddie, Kiddie … Wikitschi
2011
Constanze Hill | Hill's Angels | Kronehit | Mädchentraum
2011 – 2013
TAV | conception, implementation, nursing | study project
2010
Charity graphic design for Braintribe.org Project: Interkulturelles Lernen für Kinder
2010
'Kunst im Anzug' | KIM OKURA inner lining 'GLADIATOR' for BusinessPunks, Limited Edition 2010
2008
Moulin Rouge Wien | KIM OKURA 1st Streetwear Foto-Shooting | Christian Mikes
2008
Art on Shirts | a lot of Illustrator, Photoshop | until 2013 | KIM OKURA T-Shirts und Streetwear
2004
'… And Now Van Gogh' | study trip, Amsterdam | NLD
2002
Started as an independent trade representative with an US sales company (till Jan, 2008)
2000
'Who Am I – And Ifso, How Many?' | inspired by Richard David Precht | study tour, India | IND
1994
'Thx God I Survived' | electronic movement | start of the 1994–2007 VIP ticket collection
1993
Welcome back to Vienna | AUT
1993
'NO French Kissing In The USA' | panorama picture cycle | San Francisco, CA | USA
1993
'Dream Big' | quitted job, cancelled flat-sharing community, prepared to migrate to US
1992
Saleswoman at a fashion boutique | approximately one year
1992
Dressmaker at a theatrical costumes tailoring | approximately one day
1992
Graduate with honors at the HBLA for fashion and clothing technology, Villach | AUT
Welcome to Vienna | AUT
1991
'Bridges Are Metaphors' | study tour Prague | CZE
1991
Internship, Remagen + study tour, Berlin | GER
1988-1990
Sewing and designing for family and friends | first commissioned works
80's
Mural project 'Revolution In Their Own Four Walls' approximately 2.5×0.9m | circa end of 80's | Carinthia | AUT
Primary school, Köstenberg | secondary school, Velden am WS | polytechnic, Villach | AUT
1973
Born, Klagenfurt | AUT