PLAY. THINK. LOVE. 2016
PLAY. THINK. LOVE.
INSTALLATION (STIMULUS) 2016 two sculptures (torsi) plastic, wood maché, modelling paste overpainted with acrylic | for exhibition visitors: transparent foils with hand drawn constellations 2 parts, each approximately 106 x 70 x 48 cm cycle: BODIES monogrammed back hip right (both): Mojo KOKVIE + 'she' right shoulder signed 'Kim Okura 2016' armpit 'KOKVIE Mojo', 'he' left shoulder 'KOKVIE Mojo' armpit 'Kim Okura 2016'
---
ARTIST NOTE: (auf der Suche nach MY Pierre Restany) working title: CELESTIAL BODIES sternbilder (himmel AUT) 26. Sep 2016 1:23 stimulus, gedankenexperiment. aktionskunst, installation, speziell für die ausstellung 'Resilienzen' konzipiert und gefertigt, sternbilder ergeben anamorphe bilder/sternbilder/aterismus (je 1) vorne, hinten, rechts, links
---
PROVENANCE:
BeauMed
Concepts of Cosmetic and Medical Aesthetics GmbH, 1030 Vienna AUT (acquired from the artist Feb 2017) inkl. 2 x Galeriesockel, weiß gestrichen und 2x Sternbilder Entwurf-Folien
---
EXHIBITED: KIM OKURA KOKVIE RESILIENZEN | Galerie Palais Palffy | 14.–23. November 2016 | solo exhibition CATALOGUE RAISONNÉ: ATV53
---
ADDITIONAL: front: Ursa Major (blue) left: Ursa Minor (orange) right: Aquarius (pink) back: Pisces (yellow) Stimulus at Exhibition. Die Ausstellungsbesucher konnten mit Hilfestellung der aufliegenden Folie in ca 1,5 – 2 Meter Abstand nach den anamorphen Sternbildern auf den Skulpturen suchen. Zu entdecken gibt es den Asterismus von KLEINER BÄR, GROßER BÄR, FISCHE, WASSERMANN Ein anamorphes Gedankenexperiment über Blickwinkel, Veränderung und Vergänglichkeit. Egal wie sicher eine Sache ist, zum einen ist sie vergänglich und zum anderen; jeder hat dazu seinen eigenen Blickwinkel. Selbst wenn man den eigenen Blickwinkel versucht wiederholt exakt einzunehmen, stößt man an seine Grenzen. Woran kann das wohl liegen? Ist es überhaupt möglich ein und dieselbe Situation genau so wahrzunehmen wie eine andere Person – oder ist das schlicht ein Ding der Unmöglichkeit? …
---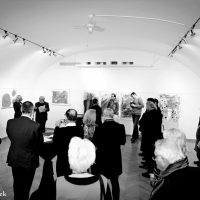 PLAY. THINK. LOVE. 2016
PLAY. THINK. LOVE.
INSTALLATION (STIMULUS) 2016 two sculptures (torsi) plastic, wood maché, modelling paste overpainted with acrylic | for exhibition visitors: transparent foils with hand drawn constellations 2 parts, each approximately 106 x 70 x 48 cm cycle: BODIES monogrammed back hip right (both): Mojo KOKVIE + 'she' right shoulder signed 'Kim Okura 2016' armpit 'KOKVIE Mojo', 'he' left shoulder 'KOKVIE Mojo' armpit 'Kim Okura 2016'
---
ARTIST NOTE: (auf der Suche nach MY Pierre Restany) working title: CELESTIAL BODIES sternbilder (himmel AUT) 26. Sep 2016 1:23 stimulus, gedankenexperiment. aktionskunst, installation, speziell für die ausstellung 'Resilienzen' konzipiert und gefertigt, sternbilder ergeben anamorphe bilder/sternbilder/aterismus (je 1) vorne, hinten, rechts, links
---
PROVENANCE:
BeauMed
Concepts of Cosmetic and Medical Aesthetics GmbH, 1030 Vienna AUT (acquired from the artist Feb 2017) inkl. 2 x Galeriesockel, weiß gestrichen und 2x Sternbilder Entwurf-Folien
---
EXHIBITED: KIM OKURA KOKVIE RESILIENZEN | Galerie Palais Palffy | 14.–23. November 2016 | solo exhibition CATALOGUE RAISONNÉ: ATV53
---
ADDITIONAL: front: Ursa Major (blue) left: Ursa Minor (orange) right: Aquarius (pink) back: Pisces (yellow) Stimulus at Exhibition. Die Ausstellungsbesucher konnten mit Hilfestellung der aufliegenden Folie in ca 1,5 – 2 Meter Abstand nach den anamorphen Sternbildern auf den Skulpturen suchen. Zu entdecken gibt es den Asterismus von KLEINER BÄR, GROßER BÄR, FISCHE, WASSERMANN Ein anamorphes Gedankenexperiment über Blickwinkel, Veränderung und Vergänglichkeit. Egal wie sicher eine Sache ist, zum einen ist sie vergänglich und zum anderen; jeder hat dazu seinen eigenen Blickwinkel. Selbst wenn man den eigenen Blickwinkel versucht wiederholt exakt einzunehmen, stößt man an seine Grenzen. Woran kann das wohl liegen? Ist es überhaupt möglich ein und dieselbe Situation genau so wahrzunehmen wie eine andere Person – oder ist das schlicht ein Ding der Unmöglichkeit? …
---